This year's MTV Video Music awards at Radio City Music Hall was the most spectacular Music Awards show MTV has had in years…. Beyonce got Sascha Fierce on the stage, Jay Z secured his legend status as he brought down the house with an emotional performance of "New York" with Alicia Keyes, and Janet Jackson put on a passionate Michael Jackson tribute as her brother Jermaine and father Joe watched on.
Of course, with any awards show comes red carpet fashion.. and there are always the HITS (Beyonce, Kristin Cavalarri), and the MISSES (Can you say Gaga?). For the 2009 MTV Video music awards, celebs such as Shakira, Madonna, Pink, Amanda Bynes, and Lauren Conrad all looked amazing in the style themes of the night- stars wore red, black, white, and lots of sparkle!
RED was the hot color for the evening. Beyonce accepted her moon man for best female video in a lipstick red dress, and proved that she is a truly classy lady as she graciously gave the stage to Taylor Swift to have her moment. Swift, looking femenine and beautiful in an A-line red dress, was previously jilted from the stage by a rude and obnoxious Kanye West, who stole from her precious satge time of award acceptance. Both Beyonce and Taylor looked divine in red. Lady Gaga on the other hand, wore the red trend in more of a REDRUM way….
Hit List RED: Beyonce, Taylor Swift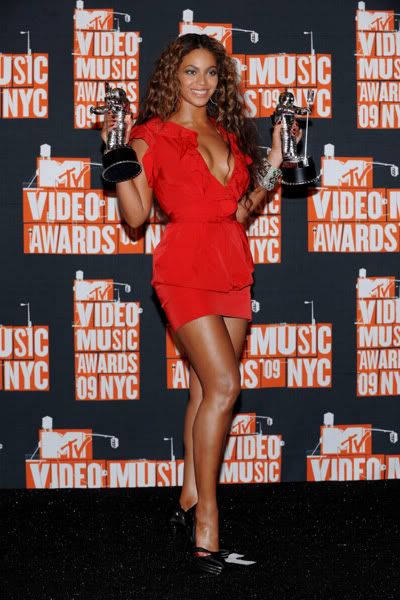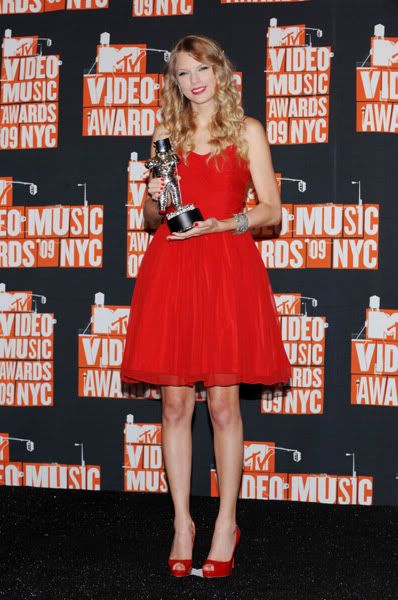 Someone call the Fashion Police on: Lady Gaga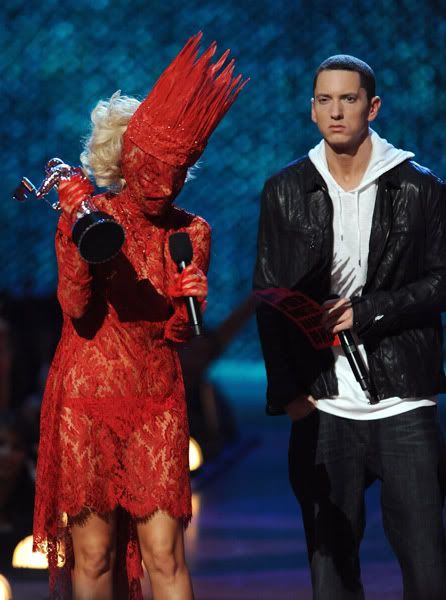 If you are going to rock the red trend, just make sure it's not in see through lace or else you might look like an escaped circus freak like Gaga here. She is scaring poor Eminem.
ROCK RED at your next special event, but do it in a classy and sexy way like Beyonce, or a sweet and pretty way like Taylor.. not in a scary weird way like Lady Gaga!
Faviana's Style 6452, 6216, 6215 and 6459 are perfect short red dresses are perfect for your spot lite worthy moments!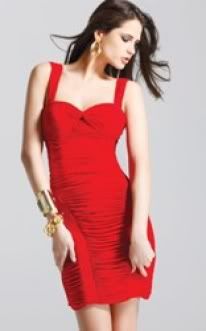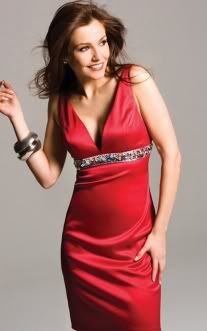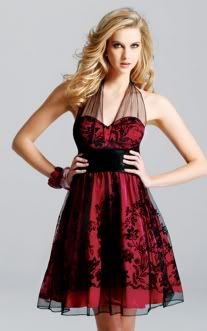 Other fashion HITS of the night were Kristin Cavalarri & Katy Perry who glittered in shimmering metallic sequin dresses. Get this look with Faviana's sequined mini dress, style #6220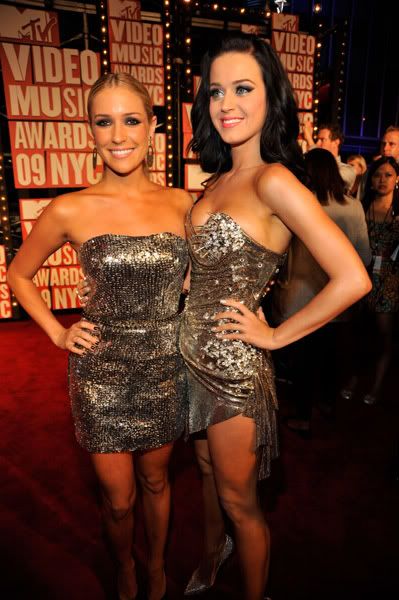 All of the Faviana dresses in this blog are in stock now in fine boutiques across the world!
Get Red carpet ready in a hot little red dress or a sequined mini frock at your next party or special event!
Stay Tuned for more tomorrow!
-Z