The 2009 Emmys
Our Vote for the BEST DRESSED at the Emmy Awards goes to Entourage star Jamie Lynn Sigler.
Jamie looked like a bronzed goddess in a shimmering gold draped dress with an open back.


Faviana Style #6419 looks strikingly similar to Jamie Lynn's Dress..
GET THIS LOOK FOR LESS WITH FAVIANA
Look like Jamie Lynn on the Red Carpet at the Emmys in Faviana's Style #6419

Seeing RED
Just like the MTV Music Video Awards, red was the most worn color on the red carpet at the 2009 Emmy awards.
Debra Messing, Sigourney Weaver, and Hayden Panitierre all chose trendy one shoulder red dresses for the special night.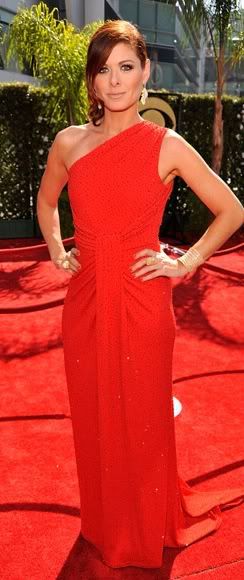 You can get this red one shoulder look in Faviana's silk style #6235.

Gossip Girl Star Blake Lively, Jennifer Morrison, and Emmy Award Winner Toni Colette also wore red to the Emmy Awards, in a variety of styles.


Feel like a celebrity on the red carpet. Wear red at your next special event.
Faviana styles 6196, 6417, 6335, and 6100 are gorgeous red styles that will make you look like a star.

All of the newspapers and magazines are reproting that RED is the HOT color for special events!
You can get your hot red carpet ready Faviana gown at boutiques across the country.
Visit the Faviana store locator at http://www.faviana.com/store_locator.php to find a store near you!