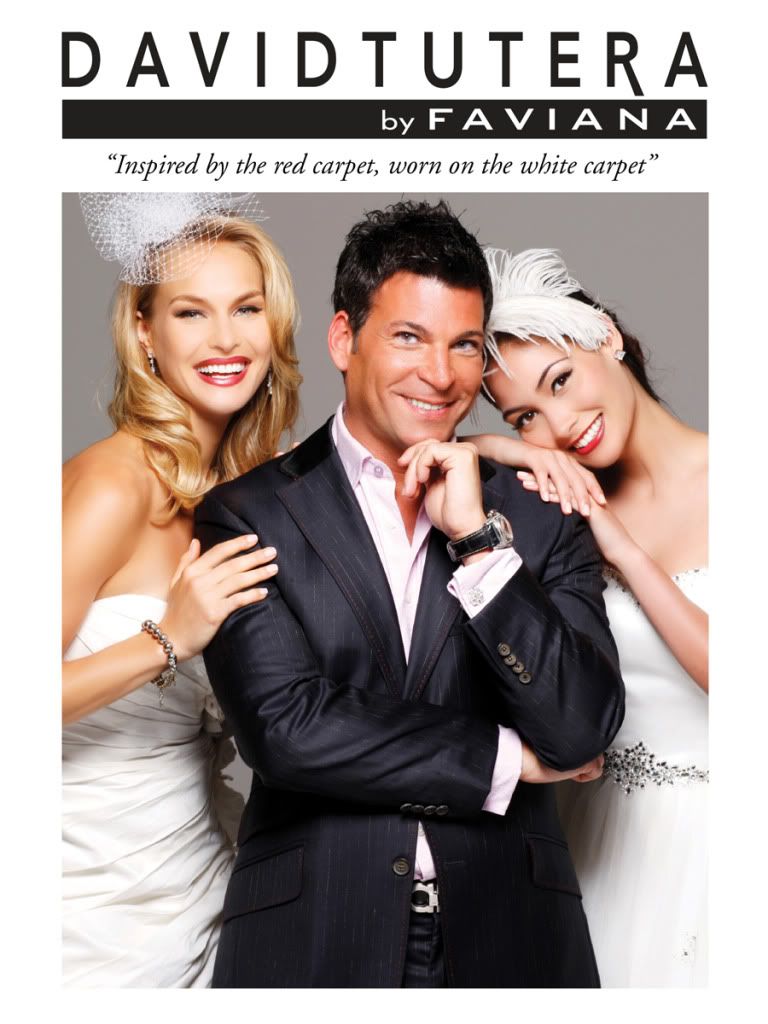 CELEBRITY WEDDING PLANNER DAVID TUTERA COLLABORATES WITH DRESS HOUSE FAVIANA ON RED CARPET-INSPIRED WEDDING GOWNS
NEW YORK, NY — September 15, 2009 — Celebrity wedding planner and host of WE TV's hit show "My Fair Wedding," David Tutera, and special occasion dress house Faviana collaboratively launch David Tutera By Faviana, a line of luxurious wedding gowns inspired by celebrity red carpet fashions. The venture is the first bridal fashion collection to carry the David Tutera name.
"Inspired by the red carpet, worn on the white carpet" is the signature of this new luxury collection for brides who want to capture the essence of celebrity style for their big day. Designs range from classic and beautiful to dramatic and innovative, while reflecting the culture of couture.
David Tutera By Faviana will debut with a 20-piece collection at the Chicago Bridal Market in October. The gowns will be available in sizes 0 to 24. Suggested retail prices will range from $1150 to $2,500, and the collection is expected to be in stores in January 2010.
Omid Moradi, Faviana CEO, states, "Our mission with the David Tutera By Faviana Collection is to bring couture and celebrity-inspired wedding dresses to the market at prices that make sense for today's bride."
"I have been planning and designing high-profile weddings for over 20 years and know what brides look for in the search for the perfect dress," says David Tutera. "Walking down the aisle at a wedding ceremony is like walking down a runway. I am delighted to work with Faviana to bring celebrity style to the bride through red carpet fashion trends translated into wedding day styles at accessible prices. Every bride should feel like a celebrity on the biggest day of her life…her wedding."
Faviana is one of the world's leading designers and producers of stylish, sophisticated evening wear. Owned by the Moradi family for more than 20 years, Faviana is renowned for innovative style and exceptional fit. Faviana's quality workmanship is marked by their meticulous attention to detail including intricate beading, sequins and embroidery.
Faviana COO Navid Moradi reports, "We are thrilled to be working with David Tutera on this exciting new collection. David brings a contagious energy and enthusiasm to the project and, best of all, it's fun to work with him." Moradi adds, "David is a master of detail, combining his unique artistic skills with the 'big picture' vision of a Hollywood director."
Honored by Modern Bride Magazine as a Trendsetter of The Year and called the "Best Celebrity Wedding Planner" by Life & Style magazine, David Tutera's ability, uniquely creative talents and outstanding reputation have brought him tremendous success in the bridal arena. Known throughout the world for turning wedding fantasies into realities, David Tutera exceeds expectations and creates the latest entertaining trends with imaginative innovation.
David's hit primetime show, "My Fair Wedding" on WE TV follows David as he completely transforms the wedding and look of a bride in distress, with only three weeks to go before her big day. With the clock ticking, Tutera overhauls the design plans and orchestrates all the physical and emotional transformations the bride needs to become a poised and graceful bridal beauty just in time.
David's impressive client list includes the weddings of Star Jones and NY Giants Antonio Pierce, events for Jennifer Lopez, Matthew McConaughey, the Grammy Awards, Elton John, Barbara Walters, the Rolling Stones, Kenneth Cole, Tommy Hilfiger, Susan Lucci, film premieres and parties for royalty, politicians and socialites.
David is the author of six entertaining books Big Birthdays, The Party Planner, America Entertains: A Year of Imaginative Parties, A Passion for Parties, and two upcoming new bridal books, The Big White Book of Weddings.
Faviana designs hundreds of long and short evening wear styles each year in colors and fabrics to fit every woman's style preference. The company has become the "go-to fashion resource" for all special occasions. Faviana head designer Shala Moradi says, "Our customer likes to stand out from the crowd…That's why we create so many styles each season. A woman ALWAYS wants to make a 'head-turning' entrance."
Faviana's unique designs have been featured on Access Hollywood, The View, the Today Show, E!, Reuters TV, CBS Evening News, Eyewitness News, NBC's Weekend Today and Inside Edition. Celebrities who have worn Faviana include Kim Kardashian, Entertainment Tonight's Thea Andrews, Dancing With The Stars' Samantha Harris and Hannah Montana's Emily Osment. The company has also provided gowns for Vanna White of ABC-TV's Wheel of Fortune, the cast of CBS-TV's The Bold and the Beautiful, WE TV's My Fair Wedding, as well as the "briefcase girls" of Deal or No Deal. Faviana dresses have graced the pages of O, The Oprah Magazine; OK!; Life & Style; InTouch Weekly and Women's Wear Daily and are mentioned regularly on "Page Six" of the New York Post.
Faviana boasts more than 2,000 retail accounts worldwide, including specialty boutiques and bridal shops throughout the U.S., Canada, Puerto Rico, Europe, the Middle East, South America and Australia. In fact, Antarctica is now the only continent on earth in which Faviana is not sold.
For more information please visit www.davidtuterabyfaviana.com and www.faviana.com.